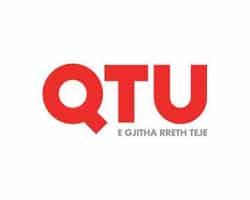 ADDRESS:
Autostrada Tiranë – Durres, Km 6, Tirana, Albania
PHONE:
+355 4 238 0100
WEBSITE:
https://qtu.al
OVERVIEW
QTU – Univers Shopping Center is the first modern shopping center in Albania that remains one of the favorite shopping and entertainment destinations in the country.
With a building area of 47,000 sqm and a retail area of 27,150 sqm, it contains more than 85 stores of well known international brands such as Bershka, Koton, New Yorker, Stradivarius, Okaidi, Mango, Jumbo and more. Besides its retail stores, the mall provides a wide range of entertainment offerings.
QTU attracts over 75,000 visitors a week and provides parking spaces for 1,000 vehicles.
Opened in October 2005, this shopping center has revolutionized the entire retail market in Albania, bringing new concepts and brands previously unknown to the local market.
In 2018 the shopping center was expanded and renovated. Additional shopping space of 14.000 sqm was added to accommodate new brands and services and to bring back the mall to a contemporary and modern hotspot state.
The mall was developed and is managed by the company Balfin Group from Albania.