Capitol Park Leskovac, the first modern retail park in Leskovac developed by Poseidon Group and Mitiska REIM, opened its doors to the public on the 9th of May. The project is a 10 million EUR investment that will create hundreds of new jobs.
The opening celebration attracted a large crowd of visitors who enjoyed in-store discounts, live art performances, fireworks and a concert by the famous Serbian pop music group, Tropico band.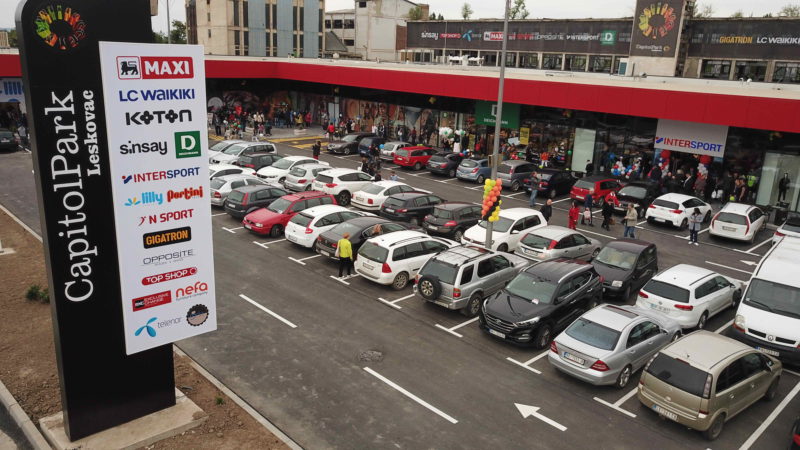 POSEIDON'S FOURTH RETAIL PARK IN SERBIA
Capitol Park Leskovac was opened in the presence of Goran Cvetanović, the Mayor of Leskovac and other city officials, as well as the representatives of Poseidon Group and its tenants.
"We are pleased to announce the opening of our fourth retail park in Serbia. Poseidon has been present in Serbia for more than a decade as a commercial real estate investor, developer and asset manager, and in the past five years alone, we have opened Capitol Parks in Šabac, Sombor and Belgrade. After Leskovac, we will also open a new retail park in Zaječar later this month," stated James Gunn, Corporate Affairs Director, Poseidon Group.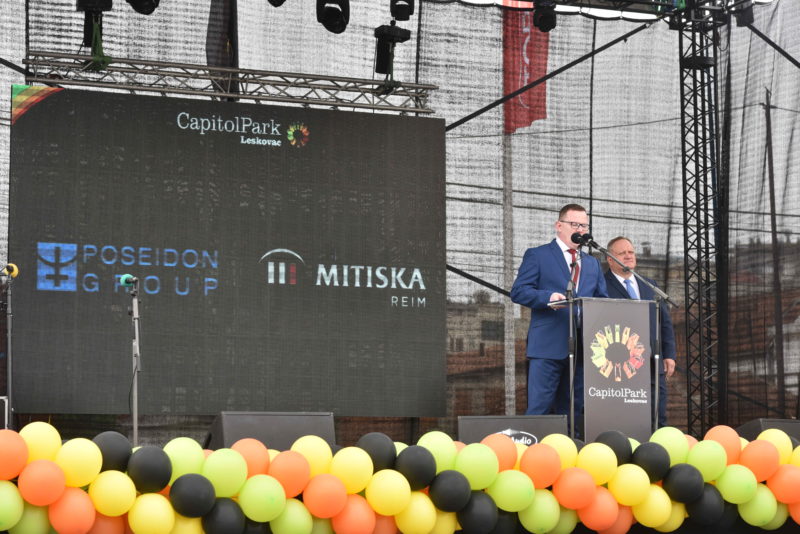 Goran Cvetanović, the Mayor of Leskovac, said that the opening of Capitol Park Leskovac would increase employment opportunities in the city, which continues to attract foreign investment. The new retail park, he added, is expected to generate up to 200 jobs.
ABOUT CAPITOL PARK LESKOVAC
Capitol Park Leskovac is built on a 16,500 land plot and offers 6,500 sqm of retail space. The complex is conveniently located in the city center, on no. 28 Marta Street, in the vicinity of the E75 Highway.
The tenant mix has been carefully selected to provide an affordable offer for the whole family. In total, Capitol Park Leskovac houses 16 stores of local and international brands such as Deichmann, Exclusive Exchange, Gigatron, Intersport, Koton, LC Waikiki, Lilly, Maxi hyper-market, Moka café, N Sport, Nefa, Opposite, Pertini, Sinsay, Telenor and Top Shop.
Supermarket chain Maxi, owned by Delhaize Group, opened its first store in Leskovac within Capitol Park Leskovac.
"The opening of a Maxi supermarket in Capitol Park Leskovac gives us the opportunity to get even closer to our customers in Leskovac and enable them to shop all household products and groceries in one place" stated Milica Popović, Corporate Communications Manager, Delhaize Serbia.
CAPITOL PARK EXPANSION
Capitol Park is a retail park concept developed and operated by British company Poseidon Group .
The Group has been operating in Serbia since 2004 and plans to expand its Capitol Park network to a total of 10 retail parks by the end of 2020. Current locations include Šabac, Leskovac, Belgrade and Sombor.
Read more about Poseidon Group's activities in Serbia HERE.
To connect with a representative of Poseidon Group, click HERE.
Browse more retail properties in Serbia on our Properties page.