The expansion of retail parks in Serbia continues with the opening of Kruševac Shopping Park, a new one-stop shopping and leisure destination, developed by NEPI Rockcastle. 
The project is a 12 million EUR investment and the first retail park development to be completed by NEPI Rockastle in Serbia. Its construction marks the expansion of the Group's retail park activities in the region.
THE OPENING CEREMONY
The grand opening was celebrated with a rich entertainment program on the 26th of September.
Stores were opened at 12 o'clock noon, after the official ribbon-cutting ceremony which was attended by the Mayor of Krusevac, Jasmina Palurovic, as well as by media representatives, city leaders, business partners and tenants.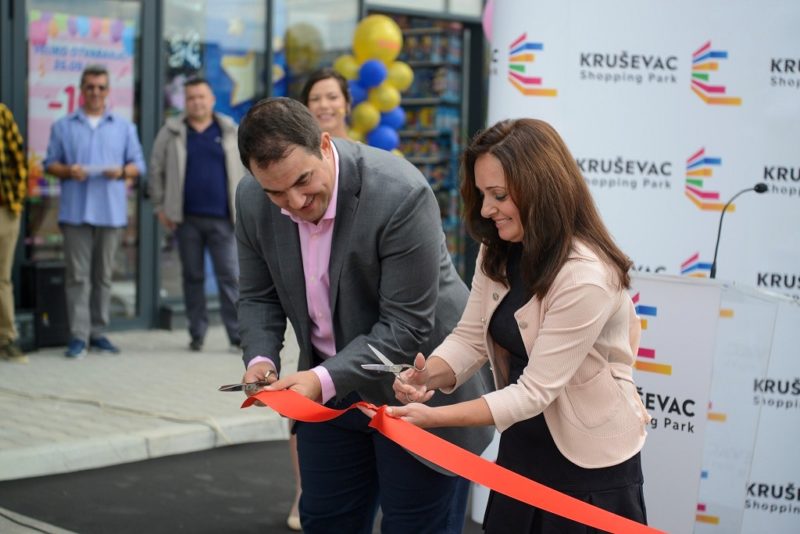 On this occasion, representative of Krusevac Shopping Park and Nepi Rockcastle Group, Nemanja Savcic, said:
"The retail park is a project worth around 12 million euros, which has created 250 new jobs. It will provide the residents of Krusevac a pleasant and affordable shopping  experience, enriching the overall local retail offer, and we expect it to become the main gathering place in the city. "
Mayor of Krusevac, Jasmina Palurovic also added:
"We want to thank Nepi Rockcastle Group for choosing our city for the realization of their investment project and for allowing our local businesses to participate in the construction of this facility. The city will justify the trust that has been shown to us and we hope that this will be just another in the series of investments that await us."
A FULL DAY OF FESTIVITIES
During the afternoon entertainment program, from 4pm to 6pm, children were amused by costumed animators. At the same time, from 5pm for adults, a DJ performance was organized, followed by the performance of the well-known and popular rock band Van Gogh, which appeared on stage at 6pm.
Discounts were offered at the newly opened stores which includes: LC Waikiki, Defacto, Orsay, Tom Tailor, Vulkan bookstore, CCC, Sport Vision, Planeta Sport, Pertini, Legend, Lilly and DM. 
Some of the after-mentioned brands are new comers to the city of Krusevac and in two months time the fashion retail offer will be expanded with fashion stores New Yorker and Sinsay.
AN EXCELLENT LOCATION
Kruševac Shopping  Park is located in the heart of Kruševac, at no. 37 Krfska Street, only 25 km from a major highway. It is positioned at the intersection of Knez Miloša Street and Bruski Road connecting the city to the famous Kopaonik mountain resort.
The retail park is easily accessible by car and public transport, and provides over 300 parking spaces.
NEPI ROCKCASTLE SHOPPING CENTERS IN SERBIA
At present, NEPI Rockcastle operates two shopping centers in Serbia: Kragujevac Plaza (22,292 sqm GLA) and Promenada Novi Sad ( 49,000 sqm GLA), which is the largest shopping mall in the country. 
Both malls are among the top performers in the local retail market, known for their high quality tenants, rich gastronomy and entertainment offers. 
Read more about NEPI Rockastle's business success in Serbia HERE.
A MARKET LEADER IN CEE
NEPI Rockcastle is the leading property investment and development group in CEE, listed on Johannesburg Stock Exchange Limited (JSE) and Euronext Amsterdam Stock Exchange. 
The Group has an exceptional property portfolio with dominant position in Romania, Poland and Slovakia and strong presence in Croatia, Bulgaria, Hungary, Czech Republic, Serbia and Lithuania, constantly expending its network on the CEE markets. 
STAY UPDATED
Sign up to our weekly newsletter to keep updated on our new articles about the retail market. SIGN UP HERE.
If you would like us to cover a story about your project or company write to us at office@retailsee.com