Dm drogerie markt (dm) marked 10 years of operations in Bulgaria and announced plans to open up to eight new stores in the next year.
Dm is the leader in the Bulgarian cosmetics market and the largest drugstore chain in Central and Eastern Europe. 
In the financial year 2018 - 2019 (1st of October 2018 - 30th of September 2019), dm reported a turnover of 151.86 million BGN (app. 77.8 million EUR) in Bulgaria. 
The company invested more than 7 million BGN in its expansion and modernization program, as well as employee training. The number of employees in Bulgaria is 750. 
A DECADE OF BUSINESS SUCCESS
Dm opened seven new stores in Bulgaria in its last financial year, expanding its presence to 26 cities across the country. Its most recent store openings took place in September this year in Sofia.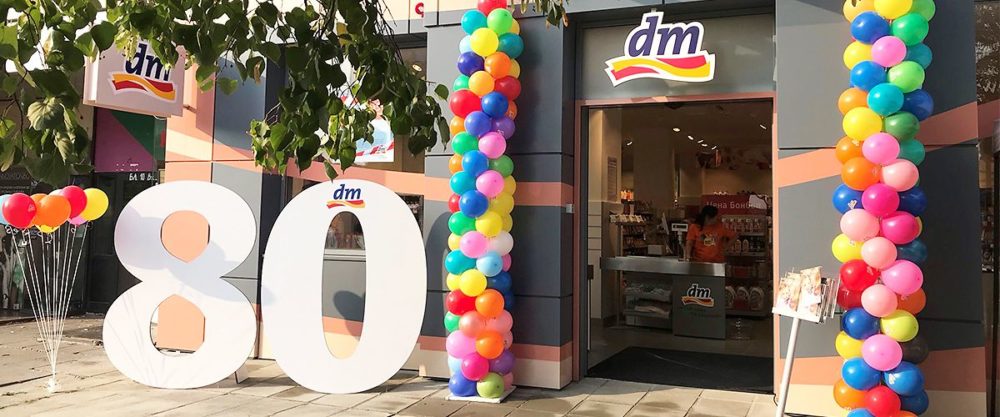 "Since the opening of our first store in Vidin in January 2009, we have opened a total of 80 stores in Bulgaria, " stated Andrei Petrov, Chairman of the Board of Directors of dm Bulgaria, reflecting on the company's 10-year anniversary.
The retailer plans to open between seven and eight new stores in Bulgaria in the coming financial year. 
MAKING A DIFFERENCE
As part of its ongoing commitment to sustainability, dm Bulgaria encourages its customers to stop using plastic bags. 
From the 3rd of October to the 27th of November, the chain will be offering re-usable shopping bags to all customers who spend over 30 BGN on dmBio and alverde products. Those who return with the bags at one of the dm stores, from the 28th of November 2019 to the 1st of September 2020, will be able to enjoy special offers and promotions, which are advertised every month on the company's website. 
Aiming to reduce carbon emissions from its operations, dm is implementing energy-saving lighting and air conditioning systems in its stores, headquarters and distribution center. 
So far the company has installed next-generation LED lighting in more than 40 stores. Its central warehouse has been equipped with environment-friendly batteries and an energy-efficient cooling system. 
DM - EUROPE'S LEADING HEALTH & BEAUTY RETAILER
dm is one of the leading drugstore chains in Europe, operating a network of 3688 stores in 13 countries: Germany, Austria, Hungary, Italy, Slovakia, Slovenia, Serbia, the Czech Republic, Croatia, Bosnia and Herzegovina, Bulgaria, North Macedonia and Romania. The company has more than 62,000 employees. 
Its main competitors in the region are the local and international health and beauty chains Lilly, Douglas, Muller, Jasmin and BIPA.
Find more retailers active in South East Europe on our Company Database page. 
STAY UPDATED
Sign up to our weekly newsletter to keep updated on our new articles about the retail market. SIGN UP HERE.
If you would like us to share a story about your company or to become a contributor for our portal write to us at office@retailsee.com.