In anticipation of the grand opening scheduled for autumn 2019, Capitol Park Križevci opened its first phase with three new stores on the 24th of July. The retail park celebrated the opening of SPAR, KIK and Green café with special discounts, offers and entertainment for visitors.
"We value the family shopping experience and adjust our tenant mix and leisure activities to create an ideal shopping destination for all generations. Under our Capitol Park and Shopping Capitol brands, Poseidon Group is a recognized high-quality regional retail leader, and we are happy to continue our growth in Croatia and build new possibilities in the retail sector through this year and next," stated Poseidon Group's Corporate Affairs Director James Gunn.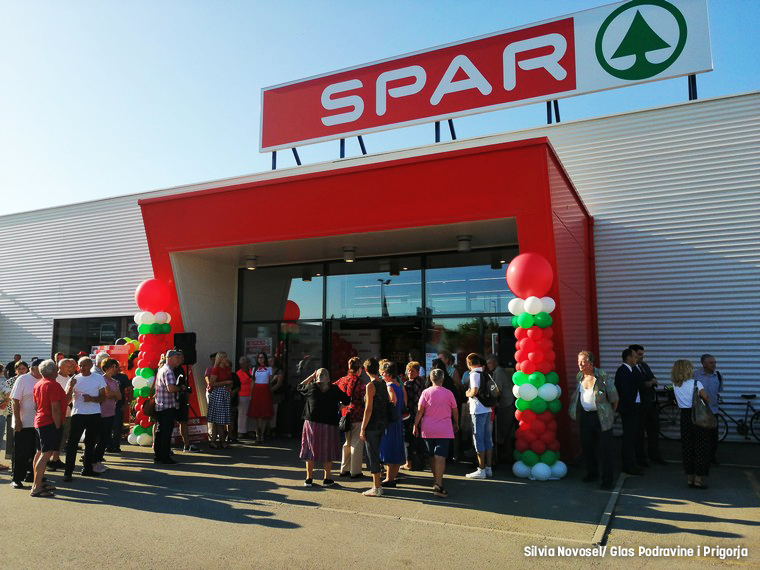 SPAR opened their first store in Križevci within Capitol park.
"We are pleased our Spar sales network is expanding and opening in Križevci. This is a big step in SPAR network expansion in this area of Croatia. In Križevci, we will present a wide range of SPAR brands and customers can start collecting stamps which will enable them to save up to 200 KN in the beginning of September.", stated Helmut Fenzl, the Board President of SPAR Croatia.
SECOND PHASE PLANNED FOR THIS AUTUMN
The second phase and the opening of Capitol Park Križevci is planned for autumn 2019, and the exact date will be announced in the upcoming period.
A MODERN SHOPPING DESTINATION IN KRIŽEVCI
Capitol Park Križevci introduced a completely new tenant mix across 4,100 sqm to the city of Krizevci.
It will host many internationally known retailers in food, textile, cosmetics and other sectors, becoming a new shopping destination for more than 20,000 residents of Križevci and its surrounding municipalities.
Its construction will boost the local economy by creating 50 new jobs.
CAPITOL PARK NETWORK EXPANSION IN CROATIA
In June, Poseidon Group announced plans to strengthen its Capitol Park network in South East Europe by opening 10 new locations in Croatia by 2020.
The Group will manage 10 locations in Zadar, Kutina, Slavonski Brod, Požega, Križevci, Jastrebarsko, Ivanić Grad, Krk, Sisak and Makarska.
With Capitol parks, Poseidon Group aims to offer high quality shopping destinations for all generations. The retail parks will introduce international brands and new market entrants to Croatia that will diversify choice, stimulate the local economy and create more jobs for Croatian citizens across the country.
Read more about Poseidon Group's expansion plans for Croatia HERE.
POSEIDON GROUP'S INVESTMENTS IN SEE
Capitol Park, operated by Poseidon Group , strives to become the leading retail park network in SE Europe by providing an international shopping experience while delivering unbeatable local prices.
Currently present in Serbia and with upcoming openings in Croatia, the network will include a total of 16 retail parks by the end of 2020.
Browse more retail projects in South East Europe HERE.