Retail SEE Group spoke with Aleksandar Bojić, Portfolio and Marketing Director at Stadion Shopping Center, about their last year's successes and plans for 2020.
Opened in 2013, Stadion Shopping Center is the best performing neighborhood shopping center located in Belgrade's municipality Voždovac. Its success is based on a unique combination of retail, sports, and entertainment offerings, enriched with interesting events.
With the rise of new shopping center developments, Stadion has faced serious competition in recent years. The mall has been able to keep its leading position, recording successes in terms of tenant turnover and visitor numbers. 
In 2020, Stadion aims to enhance its appeal by developing the most attractive food court in Serbia. The shopping center is also set to add new international brands to its tenant mix. 
What is your biggest achievement in 2019?
Without a doubt, the accomplishment we are most proud of in 2019 is the increase in tenant turnover of around 9%. We achieved this result despite facing competition from several newly developed projects in Belgrade. We proved that the shopping center that opened in 2013 is still highly attractive to both retailers and shoppers. 
How about your tenant mix? 
P…S…Fashion, Jeordie's, Futurama, Food And Love, Mauro Lucchese, and SBER bank are the tenants that signed lease agreements or opened their stores in Stadion in 2019.
Richard Gyros will join the tenant mix in early 2020. Moreover, we are also excited to welcome various new European brands that will make their debut in Serbia. 
Based on existing demand, we would have to expand the center's capacities by an additional 5,500 – 6,000 sqm in order to accommodate all the brands and retailers seeking to enter our mall.
What are your plans in 2020?
In the first quarter of 2020, we will embark on a large-scale renovation project of Stadion's food court area. The existing food court will be fully refurbished to become the most attractive venue of its kind in Belgrade.
We spent a lot of time on the first conceptual design phase of the project, which is now completed. Our goal is to transform the food court into the most attractive area of the shopping center, which is why we focused our resources on this project. The end result in Q1 2020 will be truly impressive and beyond comparison to any other food court in Serbia.
Are you planning to open new brands that are currently not available in Serbia?
Newmarket entrants that are expected to join the mall in Q3 and Q4 demonstrate our reputation among our international partners, as well as our commitment to stay at the forefront of the industry by attending relevant events and building new connections in the market.
Unfortunately, I am unable to give more information about these new entrants. I can only tell you that they are from the EU.
Retail SEE Group will be the first portal to cover our new openings when the time comes.
Based on your experience, what is the key to creating the ideal tenant mix?
Performing an in-depth analysis and building honest relationships – not only with tenants but also with agencies and visitors. 
Success doesn't happen overnight, but it is much easier to maintain with this approach. We pay close attention to the amount of sqm occupied by each retail category, track turnover rates, and listen to the voice of our customers. We also leverage marketing to enhance individual categories as needed. 
To sum up, we are committed to delivering results for our tenants.
Do you follow the latest trends in shopping center management?
Attention to detail is a cornerstone of our approach. Due to the wealth of experience that management brings from working in various senior retail roles, we are able to get a 360-degree view of retail – to efficiently identify and solve potential problems.
In our opinion, the key to successful shopping center management is attention to detail, which is sadly lacking on the market.
Customer experience and perception are among the most important aspects of management. We are seeking to provide an environment where customers can get all of their shopping done at once, as well as to enjoy memorable experiences.
For us, entertainment is not just about having a cinema; it's about fostering interaction with visitors using formats such as Futurama, Dreamland, and others.
Stadion is the only shopping center in Serbia with a football stadium on its roof.
 

What is the importance of having a unique selling point for today's shopping centers?

 

Stadion is what you might call a unique mix of passions. It is a neighborhood mall that's becoming a magnet for a large number of visitors in its surroundings.

It is also the most visited project in the densely populated Voždovac municipality. In 2019, it attracted around 560,000 visitors on average each month, not including those attending football games. 

Our slogan "All the Passions in One Place" is also our USP. Stadion is the only shopping center where people can shop for famous international brands, get medical treatment, organize a wedding or a celebration for up to 1,000 guests, watch a football game, practice sports, entertain themselves…  It's a combination that cannot be repeated and that makes us stand out from other shopping centers.  

The project was built to be a first of its kind on the market and provides a unique offering for its visitors. Consequently, it is also more complex to manage compared to traditional shopping centers. 
Do you leverage the potential of digital marketing? Can you give us an example of a marketing campaign that achieved great results?
Since 2016, we have been increasing our online marketing spend. In 2019, we achieved record-breaking results. We had the best Black Friday campaign that was 250% more successful compared to 2018 in terms of retail stores' turnover, leading to a 230% increase in visitor numbers compared to last year's Black Friday event.
How does Stadion integrate into the local community?
Stadion has established itself as the hotspot for events in a fast-growing residential neighborhood. In order to be an active member of the community, we collaborate tightly with the local municipality on various projects and tailor our activities to meet the needs of its residents.  
What is the future of shopping centers in Serbia?
Construction and opening of new developments like BW Galerija, and Beo Shopping Center, as well as various smaller projects, will nearly double the supply of shopping center space in Serbia and particularly Belgrade in the next two years. 
This opens a question: is new shopping center development in Serbia likely to continue as the market reaches maturity? 
Taking into account all the economic, demographic, political, marketing and other relevant trends, it can be observed that the amount of retail space per capita is still below the European average. 
The accelerated shopping center development is not favorable to small investors unless they are able to find new ways to stay ahead of their future competitors. In my opinion, given the size of the market, a slightly slower growth would ensure minimal side effect risk. However, even this faced-paced development activity benefits the consumer by creating a competitive market. 
With the retail market constantly evolving, it's important for shopping center managers and operators to use analytics and valuations, and be performance-driven.

 
I personally believe that the future is bright for Stadion. Our proven approach to management, which is based on two key pillars – commitment and analytics – has produced strong results so far. New projects are coming, but continue to achieve success on all fronts and have many plans for the future. 
STADION SHOPPING CENTER: THE MOST POPULAR NEIGHBORHOOD MALL IN BELGRADE
Stadion Shopping Center, located in Belgrade's highly populated residential area Voždovac, opened in spring 2013. The mall represents a 50 million EUR investment.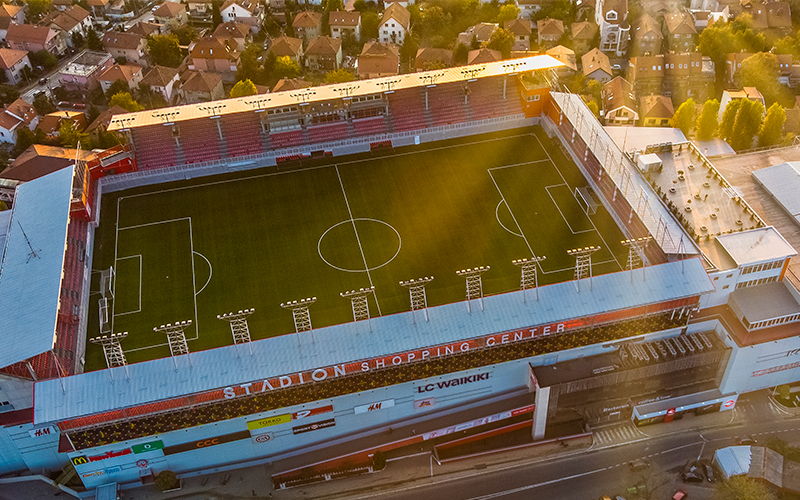 Spreading over 75.000 sqm, the project has a retail area of 30, 000 sqm. It is Europe's fourth-largest facility of its kind, with a football stadium on its roof capable of holding 5.000 spectators.
The Center houses a dynamic lineup of international and domestic stores for men, women, and children, including LC Waikiki, H&M, Koton, Mona, New Yorker, Parfois, Afrodite Mode Collection, Legend World Wide, CCC, Sportina, Takko Fashion, Tom Tailor and others.
In addition to the vast retail offer, its tenant mix comprises of various cafes, restaurants, services and entertainment centers such as Dreamland, Game Pub, GameS, and Health Care Fitness Center.